Radiant Crewing
Radiant Crewing makes the recruiting, hiring, planning and administration of your crew more efficient. Manage your crew changes easily. Comply with regulations by automatically checking and updating missing or expired certificates and documents. Enable office personnel and vessel crews to collaborate in real-time by sending and receiving essential information through RadiantFleet's vessel clients.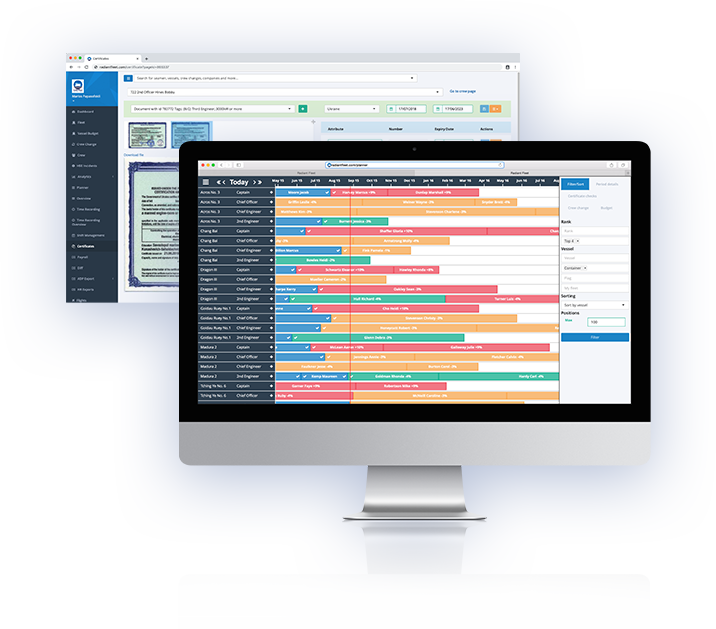 Empower your employees with the smartest Crewing Platform
Radiant Crewing Features
Personnel Management
Manage essential crew data including personal information, contact details, work preferences, travel preferences, next of kin, bank account, recruitment information and assignment history.
Graphical Planners
Specialised planning tools allow you to plan ahead and see an overview of your crewing requirements at a glance to allow you to take action immediately. Set up automated document, certificate, OCIMF and budget deviations checks.
Vessel Management
Manage essential vessel information including employee responsibilities, vessel positions, contractual and operational manning, vessel schedule and timeline, current on board summary, vessel company associations, safety roles and occupancy details per cruise.
Incident Management
Manage incidents and track all essential information and documentation.
Crew Evaluations
Customise your crew and office personnel evaluations based on your company processes.  Generate paperless evaluations to be delivered using the Radiant Crew Portal for the crew to acknowledge. Find more information in our blog post.
User Permissions Management
Offers granular user permissions management using our User Groups designer. Customize access rights for each department in your organisation.
Crew Change Management
Plan and track all crew change details, travel arrangements, costs and generate comprehensive documentation (US visa, Letter of Intent etc).
Travel & Flight Management
Track crew travel requirements to arrange the best possible trip.  Communicate crew travel information instantly with the crew using the Radiant Crew Portal.
Organization
Set up your organisation's structure to separate and assign information and procedures to appropriate departments.
Store general information and contact details of external companies and partners.
Contract Management
Advanced contract management functionality allows speedy generation of different types of contracts (IMO, POEA, River Cruise or any other customised type).  Automatically generate contracts based on specific vessel/rank/client/sailing area/wage scale requirements.
Certificate & Document Management
Easily record your crews' essentials certificate and other documents.  Set up certificate requirements for your crew based on multiple parameters.  Run certificate checks in seconds and prove compliance with regulations during on board/off board checks.
Document Designer
Create and manage branded templates with custom document elements which can be reused.  Easily design contracts, letters and all document types required for your daily operations and export them to PDF or other formats.
Dashboards
Specialised dashboards for each department, allowing personnel to focus on their core tasks and take necessary actions.
Analytics and Reports
Business Intelligence for analysis and planning are built into the system, providing efficiency and improved productivity.  Generate reports and advanced analytics in real-time.  Easily monitor trends to recognise new challenges and opportunities.
OCIMF Calculations
Set up and monitor the service matrix to comply with OCIMF requirements for tankers.
Shift Management
Configure shifts for each rank, vessel or vessel group. Working rules setup allows you to comply effortlessly with regulations (minimum consecutive rest hours, maximum daily and weekly work hours, budget hours, and days off).  Efficiently plan shifts and generate reports on board that always conform to the applicable regulations.
Time Recording Management
Input of crew time recordings may be done via scan devices and/or the Radiant Crew Portal, followed by confirmation by the vessel responsible person.  The confirmations are always done in conformance with the applicable regulations.
Integration
Multiple integrations are already available for various applications to ease input and output of essential business information.  Connect to new applications based on your business requirements using RadiantFleet APIs.
Expense Management
Input of expenses and receipts can be done from the crew via the Radiant Crew Portal, the vessel responsible person and/or the office personnel. The automated approval workflow simplifies the expense management.  The approved expenses are processed seamlessly in your payroll run using Radiant Payroll.
Advance Payment Management
Advance payments and documentation can be imported from the vessel responsible person and/or office personnel.  Allow our automated approval workflow to simplify advanced payment management, ensuring seamless processing in your payroll run.
Budget and Cost Control Tools
All-inclusive budgeting allows detailed prediction of crew and vessel costs.  Easily spot changes in planned spending and respond proactively to meet your budget requirements.
RADIANT CREWING INTEGRATES WITH APPLICATIONS TO OPTIMISE YOUR WORKFLOW
Applicant Tracking Solutions
Integrate with your applicant tracking software.  Available integration with
Jazz HR.
Learning Management Solutions
Connect your training data with your crewing system. 
Integration with
SAP Litmos
is available.